For the final standings and player statistics
for the 2017 season click the links below:
ONE FAMILY - 2017 LEAGUE CHAMPIONS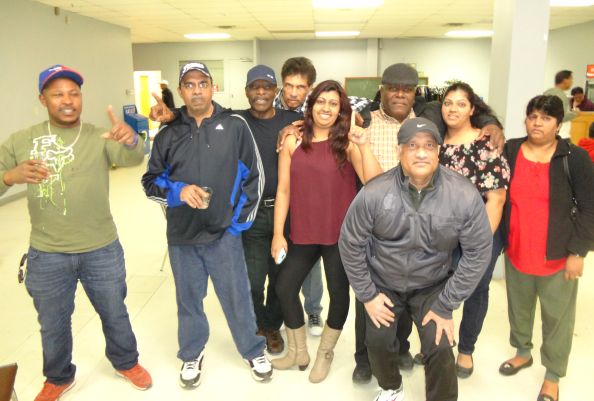 DEFENDING CHAMPIONS WON!!

.
.
Omar Maharaj & Ian Harrysingh
.
.
Omar Maharaj & Ian Harrysingh
.
MOST VALUABLE PAIR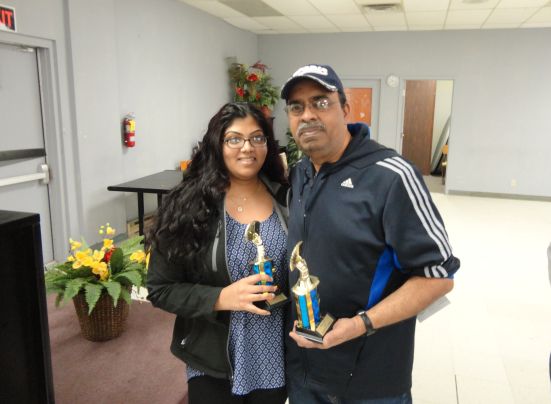 Sadiiqa Mohammed & Azan 'Shammi' Mohammed
The MAA would like to thank the teams for participating
and contributing to another fun-filled and successful card
season.

A special thank you to those who represented
Manitoba

in this year's WCC. Congrats to all the winners!

ONE FAMILY
2017.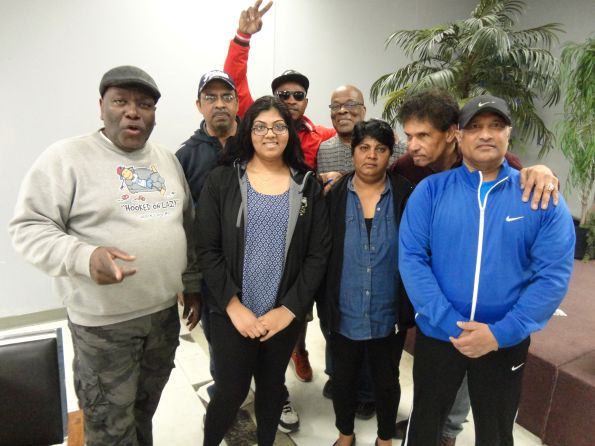 At left, Erwin 'The Professor' Carrington reminding us that
they have swept both tournaments

this year. This feat has
only been accomplished by three teams. One Family beat
ICCA

10 - 7 in the 'A' finals to win the Cup. Congrats!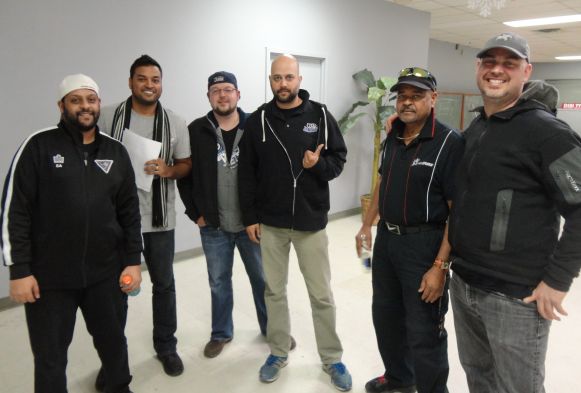 Excitement Galore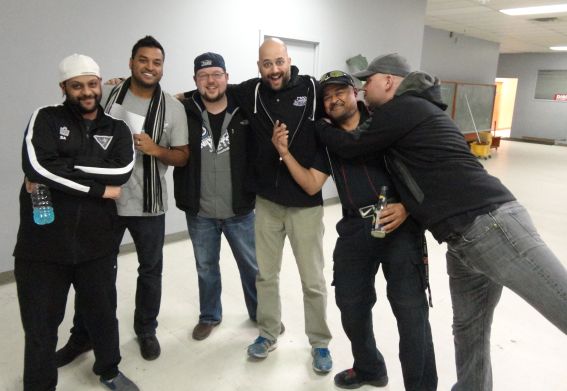 Saints celebrating their victory. Shavan doing his best 'gangsta'
impression. In jubilation Mike tried to plant a kiss on

Charley's
cheek. The excitement was so intense. They beat Chutney

Soca
11 - 8 in the
finals. Congrats to all!
Most Bullseyes (12)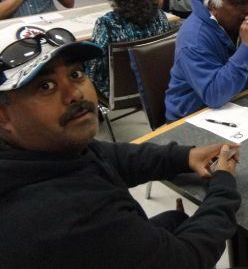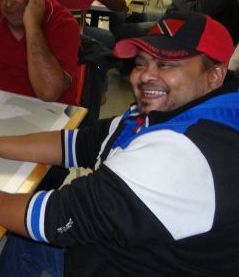 Cliff Arjoon & Michael Arjoon (Jump & Wave)
Congratulations to the above pair for winning the MOST BULLSEYES
award. Finishing

in second place were four pairs with ten (10) bullseyes.
W. Sankar & S. Bowen,

N. Baksh & O. Maharaj, V. Narine & V. Kissoon,
S. Madansingh & B. Beepath.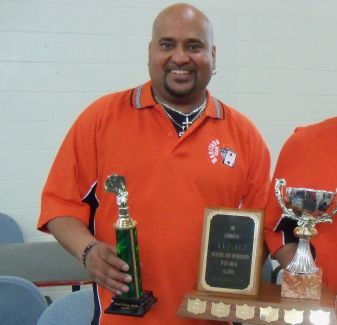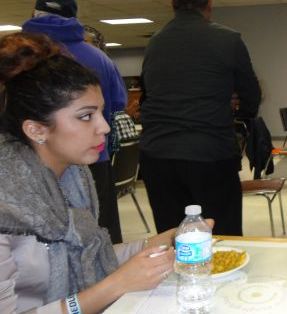 Peter Albert & Elizabeth Albert (Jump & Wave)
An outstanding performance by Peter & his daughter Liz
earned this pair the

MOST HANG JACKS award Both the
pairs of N. Baksh & O. Maharaj and

V. Narine/V. Kissoon
did well to hang five (5) jacks to take second place.
14 - 0 game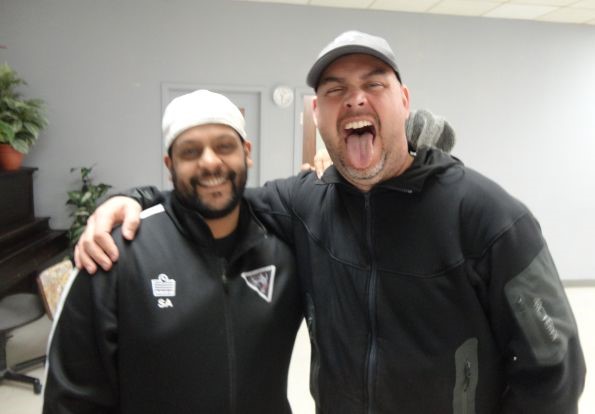 Mike (right) with his WWE Wrestlemania growl... so happy to get his first 14 - 0 game.

Just when we thought this season would end without a 14 - 0 game it happened.

Shavan & Mike were so elated to have done it. We won't say who got it.
Game Day Results - Sunday April 2, 2017
Games One (1:00 pm - 2:30 pm)
(1) One Family ....11 Vs (6) Jump & Wave ...6
(2) Saints ........... 9 Vs (5) ICCA ................12
(3) Chutney Soca 9 Vs (4) WISA ...............11
Winners - One Family, ICCA, WISA to 'A' division.

Losers - Jump & Wave, Saints, Chutney Soca to 'B' division.

(All teams are playing for trophies)
Games Two (2:45 pm - 4:15 pm)
One Family 10 Vs WISA 9 ...................... 'A' division semi final
Chutney Soca 10 Vs Jump & Wave 9 .......'B' division semi final
ICCA 10 Vs Saints 9 .........................Bye Teams - For stats only
(All teams are still playing for trophies)
Games Three (4:30 pm - 6:00 pm)
One Family 10 Vs ICCA 7........................ 'A' division final
Saints 11 Vs Chutney Soca 8................... 'B' division final
WISA 10 Vs Jump & Wave 8 ..... Losers 'A' & 'B' - Stats only
(Four teams are playing for trophies)
There were no idle teams. All teams played 3 games. All matches were 12 games or
90 minutes
long
whichever came first. The two in-between breaks were 15 minutes each.
Many thanks to the captains for filling out the scoring summary sheets for all 3 games.
One of the "For Stats Only' teams Jump & Wave won both the most bulleyes and most
hang jacks
awards. This format is fair and really works for all teams.
HIGHLIGHTS OF THE DAY
There were so many exciting and memorable moments. Here are just a few.
- The Professor playing with the President's bald head and saying,"It takes a bald head
man
(just like me) to run this organization
the way it should be run. It has been one of
the
most successful and
enjoyable season ever. Everything is looking so
encouraging.
I feel like
bringing back Aces next year."
- Many sentiments were echoed about this year's Champion of Champions tournament.

The vast majority of players found it to be very organized and well run. There were no

idle teams this time. This used to be the killing factor in running this tournament in past

years.
Kudos to the
executive committee members for doing such a great job.
- Both Ashook and Wayne Sankar provided us with free entertainment. Ashook sang

'Hum Na Jaane, Kuch Na Bol' everytime he hung Glenn or Terry's jacks. Ashook would

then
give us his famous wine.
However, when ICCA played One Family in the 'A' finals,

Wayne would imitate Ashook's wine and famous line of 'Dis side, dat side, etc.

" whenever he won. Everything was done in clean fun. The whole hall was in an uproar

every
time this was done.