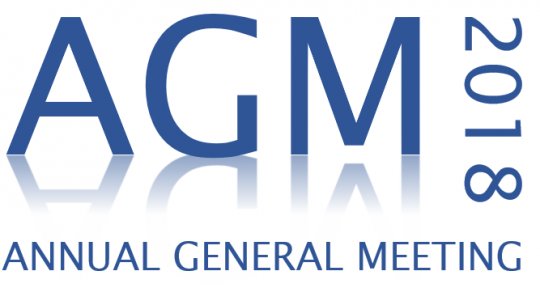 MANITOBA ALL FOURS ASSOCIATION
FRIDAY 26th OCTOBER 2018
205 MARION STREET, WINNIPEG
In attendance: Charley/Omar/Darren Maharaj, Mikey/Michael/Cliff Arjoon,
Khemraj/Rani

Ramnarine, Ramesh/Joyce Maharaj, Vijay/Beena Goolcharan,
Shammi/Waheeda Mohammed,

Ram Mangroo, Joe Paul, Sais Madansingh,
Russell Chan, Kelvin Rampersad, Sunil Ramlochan, Hafeez Abdool,

Glenn
Manoosingh, Terry Bhuckal, Peter Albert & Karl Jaikaransingh
Meeting called to order at 7:45 p.m.
No matters arising from the minutes read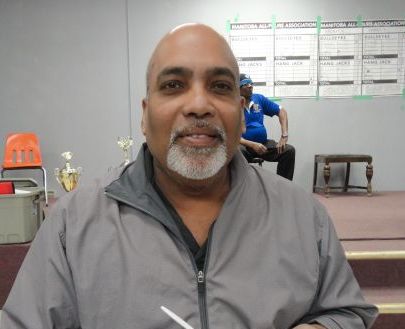 Welcome! Welcome to our Annual General Meeting.
I am indeed happy to see all here. In looking back we have had another
great year.

Thanks to the support of my executive and the community at
large. Also thanks to Lincoln Chan for the website.

He was able to
support and promote our events.

Thank you Lincoln!
The season of All Fours was good and tonight we will be handing
out Carrying

Trophies. I also want to recognize WISA as the League
Champions

for the 2018 season. Congratulations WISA!
The Western Championship went well. The game was a huge success.
Edmonton and Calgary enjoyed themselves. Derek and Henry

were
happy with our hospitality.

Thanks to Beth and Ken Mungal for the
Friday night and all those who helped. Thanks to Suresh, Ken

and
Lincoln who helped with the entertainment. Also thanks to those

who
prepared the food. The ladies did a great job. A big thank you

to
Kathleen Castello who did a wonderful job with the scoring.
The MAA golf fundraising was a success. Ed and his team

at Inwood Golf
Course were very helpful.
Once again the sponsors came forward. Thanks for all who helped. Our
fundraising was healthy enough and we were able to make a donation

to
the

Children's Hospital Foundation of Manitoba.
The Curry-Q was well attended and everyone enjoyed themselves.
As we look forward to next year's tournament we are appealing to
someone

to help with the scoring stats. Please, we need some help.
Let's hope that we have a year of fun, competive cards and enjoyment.
Thank you ladies and gentlemen.
~o~o~o~
- Financially it was another great year.
The golf tournament was well
- The President will engage with someone to handle game day
scoring, stats and

website management. This will be a paid position.
- Option to consider a different venue.
- Problems associated with vacating the building at precisely 6:00 p.m.
- Considerations to play less games and finish by 5:30 p.m. or start the games earlier.
- Entertaining the idea of going to a three table format. Less games will be played.
TROPHY PRESENTATIONS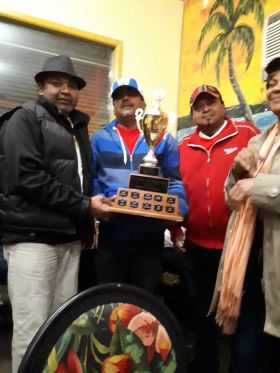 Champion of Champions Winners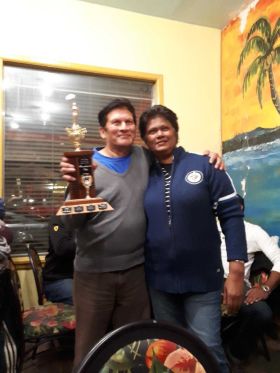 Ramesh representing Chutney Soca and
accepting

the President Cup from Beena.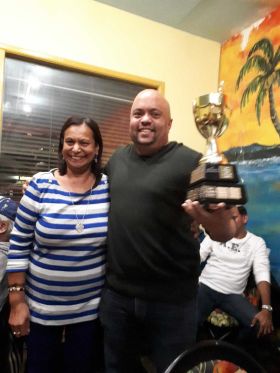 Russell receiving the Most Hang
The boys from WISA with the League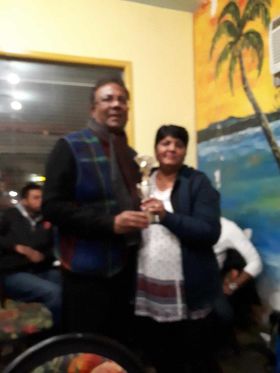 Sais presenting the Most Bullseyes
(Knockout Competition)

to Waheeda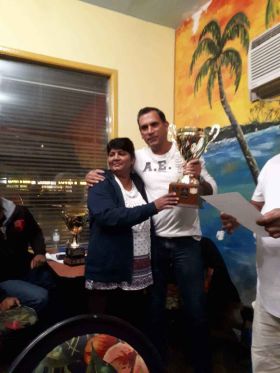 Glenn handing over the MVP trophy
(League Championship) to Waheeda.
Her playing

partner was absent.